EM116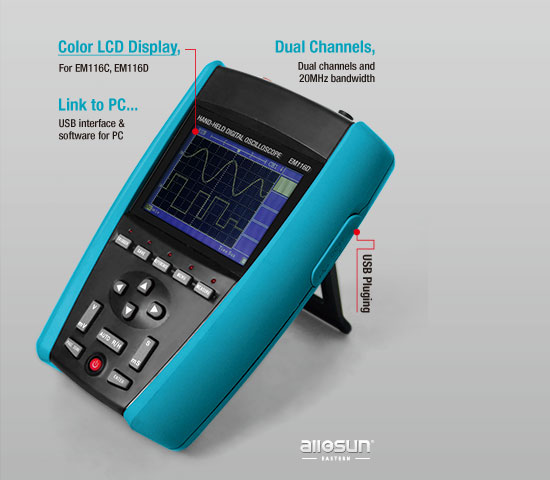 PORTABLE OSCILLOMETER, EM116 示波器 功能简介
This unit is a portable oscillometer with the advantages of light weight, small size and the dual-channel color LCD display. It features bandwidth 20MHz, RS232 interface output, waveform and data storage, waveform measurement, frequency measurement , voltage measurement. It is very precise and easy-to- operate. It is a very useful tool in various fields of electronic industry.
规格参数
1. Dual-channel color LCD large display
2. Touch key
3. Digit bandwidth 20MHz. Bandwidth 25MHz when it cooperates with computer
4. 8k memory for every channel
5. Vertical sentivity: 50mV-5Vdiv
Time base range: 50ns-2s/div
6. Can store and display 10 groups of waveforms and 10 groups of settings
7. Voltage, frequency and other measurements available
8. Built-in FFT frequency meter
9. Built-in RS232 communication module, 8M flash memory module
10. Chinese language menu on the display
11. Power supply: 6V (1.5VX4 battery), external power supply permitted.
附件
Li Battery(installed)
AC/DC power Adapter
Scopemeter Probes
Multimeter Test leads
Users Manual